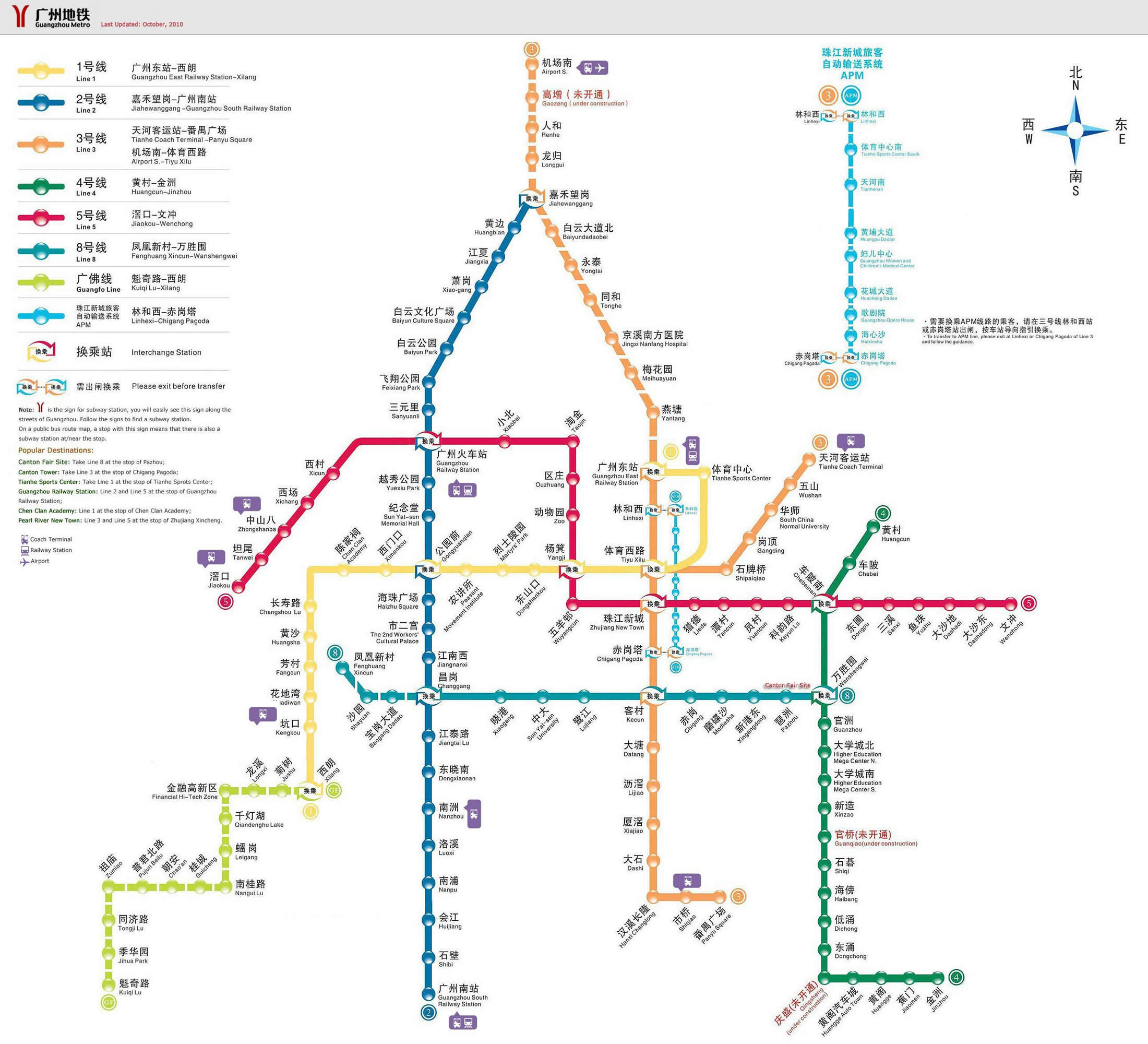 2011-2012 Guangzhou Subway Map New
Fares of Guangzhou Metro currently range from ¥2 (a couple of stations) to ¥14 (the longest journeys). A journey shorter than 4 km costs ¥2; ¥1 is charged for every 4 km after 4 km, every 6 km after 12 km, and every 8 km after 24 km. An additional, undiscountable ¥5 fee is charged for any journey to or from Airport South. Collection of such a fee was approved for one year in July 2010. The fare for the longest possible journey to the exiting station will be charged if a journey exceeds four hours. Passengers may carry luggage below weight and size limits at no cost or a ¥2 surcharge.
Current ticket types Single journey ticket
Guangzhou Metro single journey ticket Single journey tickets can be bought at a kiosk at every station or at the automatic ticket vending machines. The ticket itself is a contactless radio-frequency plastic token. The user has to tap it on the sensor on the ticket barrier when entering and insert it into a slot at the exit gate where the token is reclaimed. Full base fares are charged for single journey tickets for individuals. Passengers travelling in groups of 30 or larger can enjoy a 10% discount.

Line 1
Guangzhou East Railway Station - Tianhe Sports Center - Tiyu Xilu - Yangji - Dongshankou - Martyrs' Park - Peasant Movement Institute - Gongyuanqian - Ximenkou - Chen Clan Academy - Changshou Lu - Huangsha - Fangcun - Huadiwan - Kengkou - Xilang

Line 2
Jiahewanggang - Huangbian - Jiangxia - Xiao-gang - Baiyun Cultural Square - Baiyun Park - Feixiang Park - Sanyuanli - Guangzhou Railway Station - Yuexiu Park - Sun Yat-sen Memorial Hall - Gongyuanqian - Haizhu Square - The 2nd Workers Cultural Palace - Jiangnanxi - Changgang - Jiangtai Lu - Dongxiaonan - Nanzhou - Luoxi - Nanpu - Huijiang - Shibi - Guangzhou South Railway Station

Line 3
Panyu Square - Shiqiao - Hanxi Changlong - Dashi - Xiajiao - Lijiao - Datang - Kecun - Chigang Pagoda - Zhujiang New Town - Tiyu Xilu - Shipaiqiao - Gangding - South China Normal University - Wushan - Tianhe Coach Terminal - Linhexi - Guangzhou East Railway Station - Yantang - Meihuayuan - Jingxi Southern Hospital - Tonghe - Yongtai - Baiyun Dadao Bei - Jiahewanggang - Longgui - Renhe - Airport South

Line 4
Huangcun - Chebei - Chebeinan - Wanshengwei - Guanzhou - Higher Education Mega Center North - Higher Education Mega Center South - Xinzao - Shiqi - Haibang - Dichong - Dongchong - Huangge Auto Center - Huangge - Jiaomen - Jinzhou

Line 5
Jiaokou - Tanwei - Zhongshanba - Xichang - Xicun - Guangzhou Railway Station - Xiaobei - Taojin - Ouzhuang - Zoo - Yangji - Wuyangcun - Zhujiang New Town - Liede - Tancun - Yuancun - Keyun Lu - Chebeinan - Dongpu - Sanxi - Yuzhu - Dashadi - Dashadong - Wenchong

Line 8
Fenghuang Xincun - Shayuan - Baogang Dadao - Changgang - Xiaogang - Sun Yat-sen University - Lujiang - Kecun - Chigang - Modiesha - Xingangdong - Pazhou - Wanshengwei

Guangfo Line
Kuiqi Lu - Jihua Park - Tongji Lu - Ancestral Temple - Pujun Beilu - Chaoan - Guicheng - Nangui Lu - Leigang - Qiandeng Lake - Financial Hi-tech Zone - Longxi - Jushu - Xilang
Home Page|Rooms|Location|Canton Fair|Subway Map